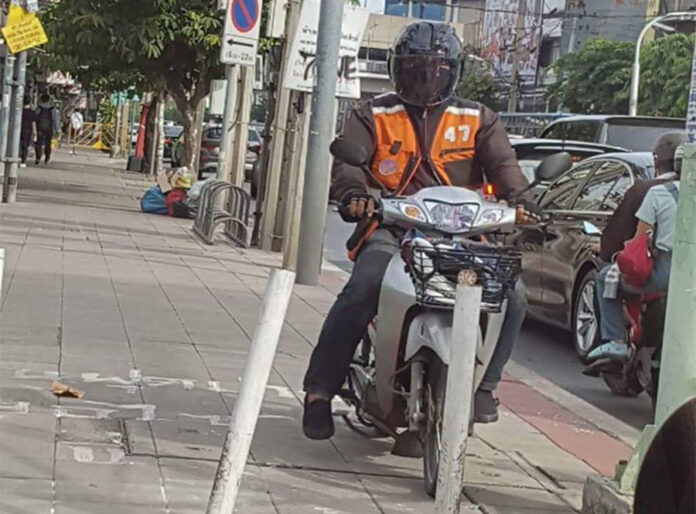 BANGKOK — City Hall on Thursday said the number of motorcycle jockeys on sidewalks is almost unchanged even after more than 3 million baht in fines were collected from them in the past three months.
While admitting that setting up more checkpoints across Bangkok failed to clear motorcyclists from sidewalks, Deputy Gov. Sakoltee Phattiyakul said the minimum fine had recently been increased from 500 baht to 1,000 baht, hoping it would discourage further violations of the law.
Read: Sidewalk Moto Jockeys Fined 1.65M Baht: City Hall
Since July, authorities in more than 230 checkpoints busted 8,000 riders on sidewalks, with 5,000 being fined and the rest let off with warnings, according to Sakoltee.
Gov. Aswin Kwanmuang said last month that City Hall collected over 1.65 million baht in fines from about 3,200 offenders riding or parking on sidewalks, and that it would increase the number of checkpoints to strengthen the law's enforcement.
The decision appeared to almost double the number of arrests and fines in just under a month.
"These checkpoints are set up … to make people change their behavior, ride their bikes in proper traffic lanes and stop infringing on others' right to use public spaces," Sakoltee said. "However, so many people are still violating the law and riding their motorcycles on sidewalks. We've constantly received complaints."
The policy, which is part of City Hall's ongoing campaign to keep the sidewalks clear for pedestrians, is enforced by code compliance officers and police, and has a maximum fine of 5,000 baht.
Related stories:
Street Wars: Bangkok Vendors Strike Back
City Hall Claims Victory in Central Lardprao Sidewalk War
Report a Moto on Sidewalk and Get Paid Half the Fine
Sidewalk Showdown: City Won't Budge on Ultimatum to Liberate Siam Footpaths