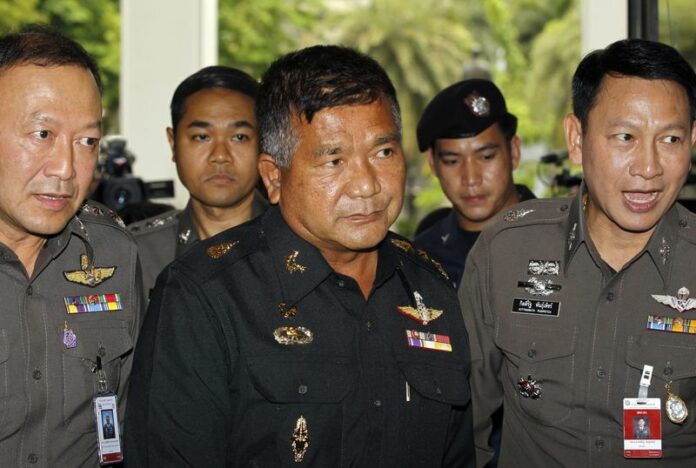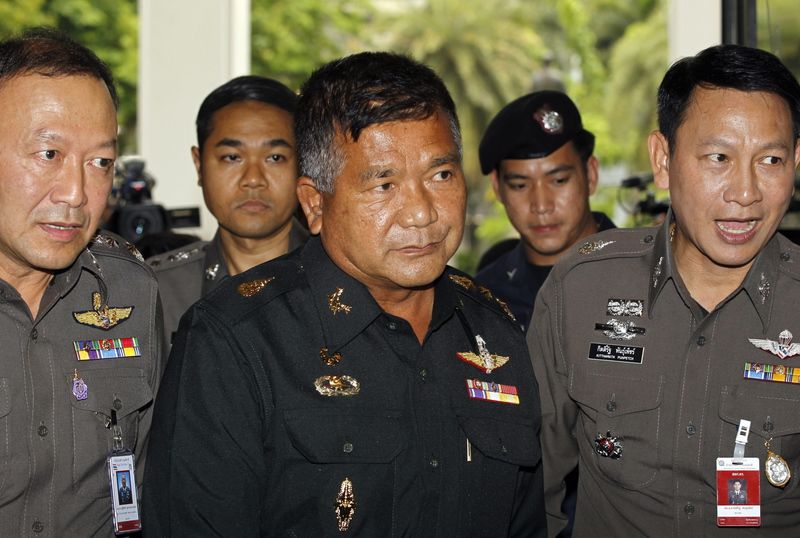 BANGKOK — The Criminal Court on Wednesday convicted the ringleaders and dozens of other defendants linked to a mass human trafficking ring behind a Rohingya death camp raided in 2015.
For his role as the most senior official in the operation, Lt. Gen. Manas Koongpan was found guilty of exploiting his authority during his time as director of the Internal Security Operations Command, or ISOC Region 4, overseeing the southern region through which the trafficking route ran.
Also convicted were the other two kingpins of the case, former local administrator of Satun province Patchuban Angchotipan, or Ko Tong, and former mayor of Padang Besar subdistrict in Songkhla province, Banjong Pongphol.
Another two police officers, Lt. Col. Chan U-thong and Sub. Lt. Narathorn Samphan, were also found guilty as facilitators.
After nearly 13 hours of reading verdicts, the court sentenced Manas and the two police officers to 27 years in prison each. Patchuban and Banjong were handed jail terms of 75 and 78 years, respectively.
Of the 103 defendants, one died during the two-year trial. Forty were acquitted yesterday.
The 62 convicted were ordered to pay restitution amounting to 4.4 million baht. Among those, 28 were ordered held in custody while they appeal their convictions.
Those tried were among 103 suspects arrested out of a total 153 warrants issued  – including bureaucrats, local administrators, businessmen and police officers – found guilty of human trafficking and participating in the transnational crime network behind a human slave camp raided in the southern provinces bordering Malaysia.
A makeshift stockade found in the jungle was said to have been used by traffickers to detain Rohingya refugees until their families could pay ransom money. Mass graves were found behind the camp.
The court on Wednesday evening was still reading the lengthy verdicts for all 103 defendants, but had already rendered dozens of guilty verdicts on a wide range of offenses.
Read: Death Camps: Police Arrest 12, Seek 56 Others in Trafficking Probe
They were part of an operation that involved many officials across three main provinces. It began when Manas ordered the extradition of a group of Rohingya refugees that arrived by boat in Ranong and Satun provinces, before the network took them to be detained at the mountain camp in Songkhla province.
Prime Minister Prayuth Chan-ocha was the army chief at the time Manas was promoted to the position of director.
The general was informed of 14 charges under the 2008 Anti-Human Trafficking Act and other relevant laws. He denied all of them and was imprisoned for the past two years of the trial along with the rest of defendants whose bails were denied.
Witness said Manas ordered the extradition of the Rohingyas without sending them through due legal process and benefited from the operation. He reportedly received more than 14 million baht from agents during that time.
The human trafficking case – the biggest in the country to date – was linked to the refugee crisis that emerged in 2015, when thousands of Rohingya boarded boats to flee persecution and poverty in Myanmar and Bangladesh. Many were allegedly left to die at sea by traffickers.
Rights groups have long accused Thai officials of turning a blind eye to such operations – and even being complicit.
But since seizing power in 2014, the military government pledged to tackle human trade networks. Pressure to do so was ramped up when the United States downgraded Thailand to the worst possible ranking in a annual report on human trafficking. While Thailand has been returned to Tier 2 status in the US State Department's latest Trafficking in Persons report, it said not enough was being done to bring officials to justice.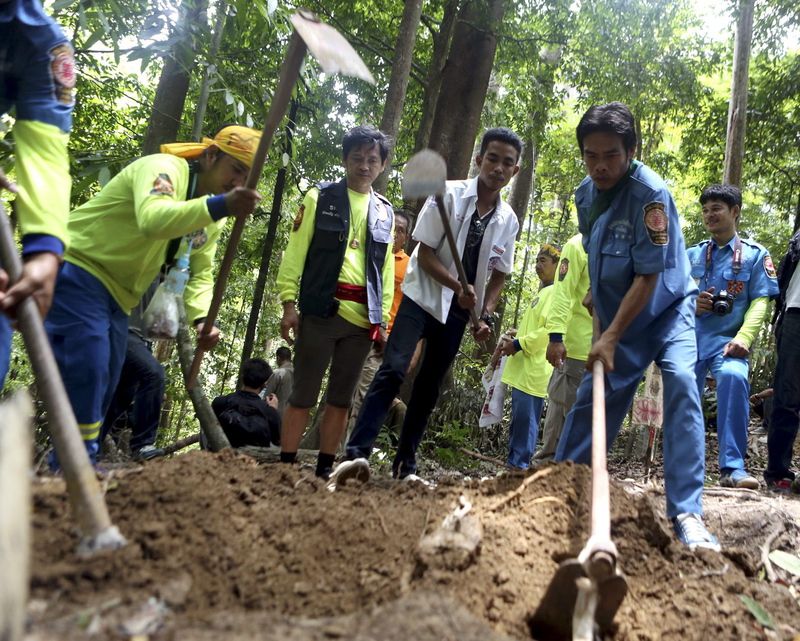 Those found in May 2015 in the Songkhla province camp were ethnic Rohingya, a minority group persecuted in Myanmar, where they are labeled illegal immigrants from Bangladesh. Those found had hoped to reach Muslim-majority Malaysia but were kidnapped by traffickers along the way.
Media reports later featured first-person accounts about of captives allegedly forced to contact their families to demand ransom money while they faced routine mistreatment in the form of beatings, gang-rapes and more.
The mass graves found behind the jungle camp were thought to have contained the bodies of those who did not survive the inhuman conditions or died from the abuse.
The head of the investigation team, police Maj. Gen. Paween Pongsirin, was moved to the southern border province – home to a decades-long insurgency – after he requested an arrest warrant for Manas. Paween fled the country and later appeared in television in Australia where he said he was seeking asylum, citing threats to his life from influential Thai authorities for his role in the investigation.
Right groups such as Fortify Rights issued a statement this week calling Thai authorities to hold perpetrators accountable.
After being downgraded to Tier 3 – the lowest ranking in the US trafficking report in 2014 and 2015 – Thailand was returned to Tier 2 status in 2016, where it has remained. The government said the 2017 report did not take into account progress made in the past years.
Update: This story has been updated to reflect the final outcome of Wednesday's session.
Related stories:
No Threats Against Paween Found, Investigation Team Says
Police Weigh Defamation Suit Against Human Trafficking Investigator
Head Human Trafficking Investigator Seeks Asylum in Australia
Head Human Trafficking Investigator Rumored to be Fleeing Country
Trafficking Investigator Quits Case for Fear of Reprisal
Police Shelve 'Solved' Human Trafficking Investigation
Death Camps: Police Arrest 12, Seek 56 Others in Trafficking Probe
Examination of Human Trafficking Witnesses to Take 5 Years: Police
Thai Govt's Boat People Policy 'Illegal, Helps Trafficking Trade'
New Rohingya Detention Camp Found in Thailand, More Arrest Warrants Issued
Thai Government Mulls Opening Refugee Camps for Rohingyas
Songkhla Governor Pleads for More Rohingya Interpreters