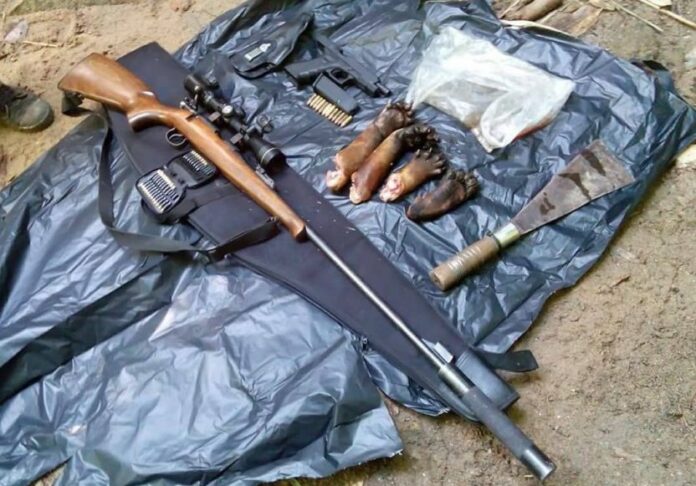 KANCHANABURI — Police on Tuesday forwarded to prosecutors the case against 14 suspects – including a government official – over poaching a bearcat in a national park.
With the 1,365-page case file delivered, Kanchanaburi police chief said the party were charged with 17 counts related to firearms possession and poaching a protected animal. Among them is Watcharachai Sameerak, permanent secretary of a provincial district, who got 14 charges.
The group was arrested in October at the Sai Yok National Park after rangers found them with hunting gear and severed bearcat paws. An animal jaw and skin, as well as bullet shells and a machete were later uncovered near Tao Dam monastery, where the group claimed to be bound to make merit.
Sompoch Limtrakul, director-general of the regional prosecutor's office, said he expects the prosecution team to finish reviewing the case by next week.
Another high-profile poaching case against construction mogul Premchai Karnasuta is ongoing. The trial began last month after he was also arrested in a Kanchanaburi national park over accusations of poaching and eating a black panther earlier this year.
Related stories:
Police Hunt Myanmar Man Accused of Cooking Bearcat
Poaching Suspect Says He Lent Rifle to Kill Bearcat: Police
Poaching Suspects Post Bail as Park Rangers Seek More Evidence
Jaw, Skin Found at Park Where 12 Were Charged With Poaching
Govt Official Among 12 Charged With Poaching in Kanchanaburi