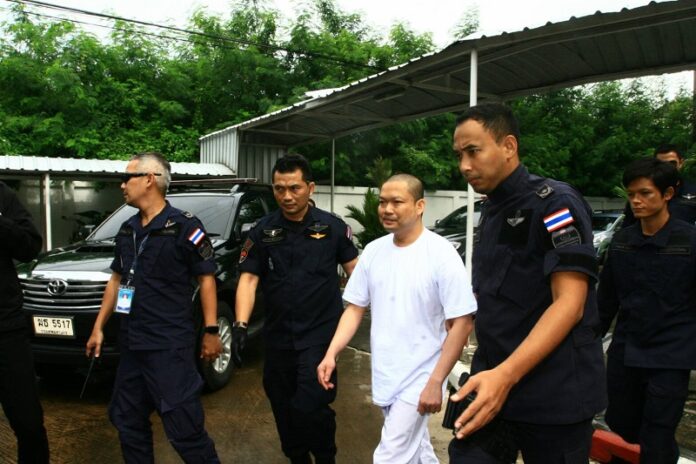 BANGKOK — When a fugitive former monk landed in Thailand on Wednesday night, the first thing authorities did was order him to remove his robes.
Wirapol Sukphol, better known by his monastic title Luang Puu Nen Kham, denied all charges against him as he was taken for questioning at the Department of Special Investigations upon his arrival from the United States.
He was brought to the Criminal Court Thursday morning for a hearing on his continued detention after prosecutors decided to indict him for fraud, money laundering and computer crimes.
Read: DSI Says Disgraced 'Jet-Setting Monk' to be Extradited
Two other counts against him relating to abducting and sexually assaulting a minor expired under statutory limitations last year, according to attorney general spokesman Somnuek Siangkong.
Somnuek said prosecutors will submit their case to the court today. They will also demand Wiraphol return 28 million baht to his 29 victims.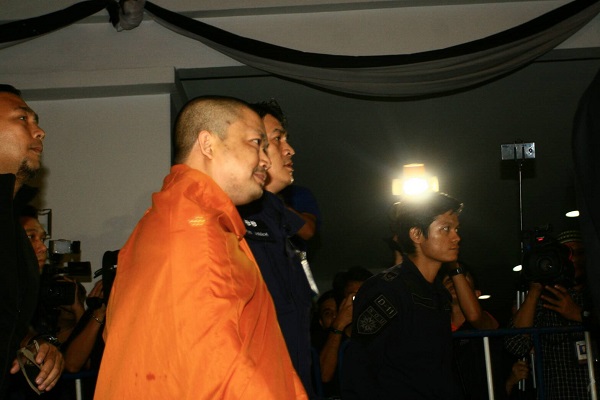 The 38-year-old former monk headed a monastery in Sisaket province where he enjoyed a following of wealthy and influential people. Styling himself as a magical monk, Nen Kham was given large sums of money and luxury goods.
He appeared in the news in 2013 after photos and videos emerged of him in situations people deemed inappropriate, such as sleeping next to a woman and boarding a private jet decked out with brand name apparel. More scandals gradually emerged, including allegations he fathered a child and had sex with an underage girl.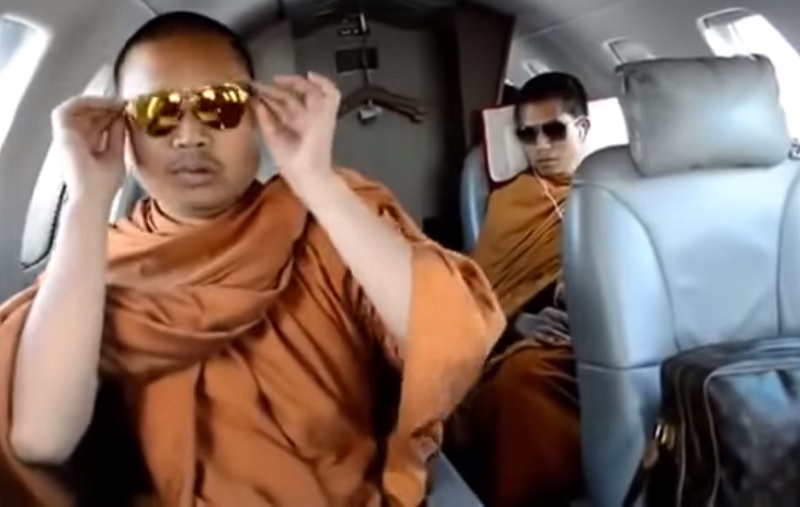 The former monk was wearing robes when he arrived in Thailand robe yesterday. He agreed to change into white clothes after the authorities informed him he was expelled from the monkhood in absentia after fleeing the country four years ago.
Wirapol had been residing in Southern California, where he claimed to have received refugee status. He had also founded a new monastery there unrelated to the sect he led in Thailand.
The director of the Department of Special Investigations said Wirapol wanted to return and defend himself in his homeland.
Related stories:
DSI Says Disgraced 'Jet-Setting Monk' to be Extradited
Fugitive Ex-Monk Narrowly Escapes Arrest In Laos
Fugitive Ex-Monk's Brother Rescinds His Testimony
Extraditing Disgraced Ex-Monk Not A Problem, DSI Says
Fugitive Ex-Monk Reappears In Laos, Report Says
Disgraced Ex-Monk Fathered A Son, DSI Says
DSI Discuss With US Officials About Fugitive Ex-Monk
Ex-Monk's Brother Disputes Authenticity Of Sordid Photo
Police Seeking To Revoke US Visa Of Controversial Ex-Monk