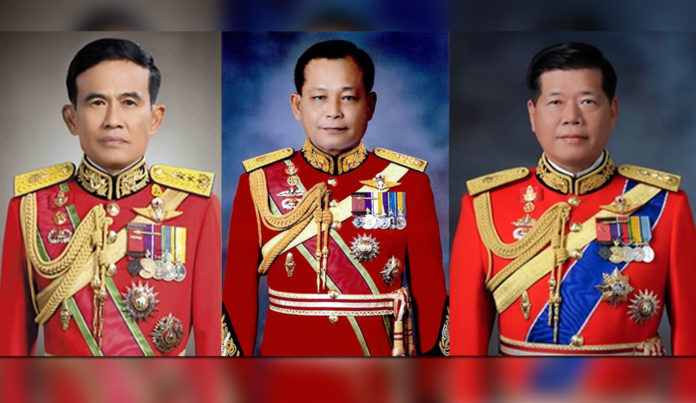 BANGKOK — His Majesty the King appointed Tuesday the 10 members of his Privy Council.
Three of the 10 new members to serve under His Majesty King Maha Vajiralongkorn Bodindradebayavarangkun are all generals in the armed forces: Justice Minister Gen. Paiboon Koomchaya, Minister of Education Gen. Dapong Ratanasuwan and former Army chief Gen. Teerachai Nakwanich.
Teerachai also currently serves on the junta-appointed National Legislative Assembly.
The other seven members served under His Majesty the Late King Bhumibol Adulyadej: former Prime Minister Gen. Surayud Chulanont, Kasem Wattanachai, Palakorn Suwanrath, Atthaniti Disatha-amnarj, Supachai Poo-ngam, Chanchai Likhitjitta and Air Chief Marshal Chalit Pukbhasuk.
Deputy Prime Minister Prawit Wongsuwan responded to the Royal Command by stating that it was a good thing for two ministers of the military government to be trusted by His Majesty. He said the openings in the cabinet would be filled soon.
The Royal Command issued Tuesday was countersigned by the 96-year-old head of the Privy Council, Prem Tinsulanonda.
The new Privy Council was appointed after the former council under His Majesty the Late King resigned.
Prem was reappointed as head of the council Friday after he had to leave the post to installed as regent during the time in which former Crown Prince Vajiralongkorn declined to immediately accede to the throne after King Bhumibol's death on Oct. 13.
Related stories:
New Privy Councilor Appointed in Place of Prem
Gov't Backs Off From Specific Succession Time Frame
Crown Prince Vajiralongkorn Meets With Regent, Will Take Throne
Prem Assumes Regency Over Thailand's Empty Throne