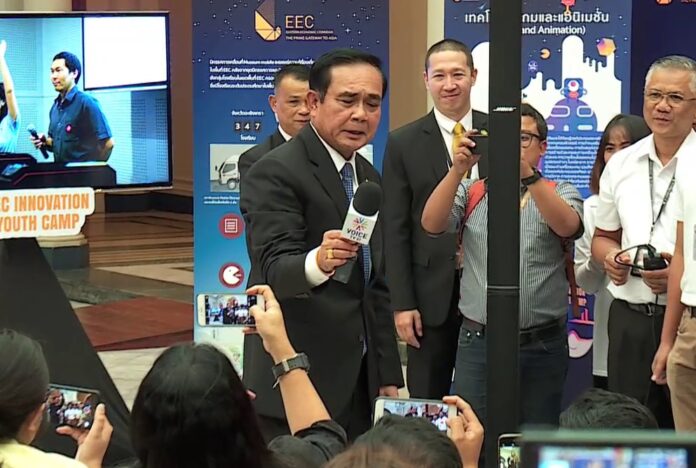 BANGKOK — A TV station repeatedly penalized by the military government for its coverage will lay off up to half of its workforce, sources said Thursday.
The restructuring of Voice TV, which is owned by the son of junta political arch-rival Thaksin Shinawatra, will fall heavily on its television production staff as the channel will shift its focus to online presence, two sources at the channel said separately. They spoke anonymously because they are not allowed to discuss company policies to the media.
Both sources said station management will announce next Friday whose jobs are on the line.
"The list will be announced next Friday," one source said. "There will be 150 people left, from something like 300 employees in various sections. Most of the layoffs will be in the TV department while most of the website crew will get by."
Voice TV news director Prateep Kongsib declined to comment.
"Apologies, but I cannot give you any information at this time," he wrote in an email.
Founded in 2008, the station is one of two dozen stations that paid 50 billion baht to win a digital broadcast license. Their content has been policed by state broadcasting regulators, which was empowered by the regime to dish out punishment to violators of junta guidelines and coverage agreements the media were pressured into complying with following the 2014 coup.
The company is privately held and its finances are shielded from scrutiny, but reports suggest its business has been struggling. An article by Isra News in March said the station had racked up cumulative losses of 1.3 billion baht by the end of 2015, the latest information available.
Owned by Panthongtae Shinawatra, the only son of former prime minister Thaksin Shinawatra, the station routinely covers political issues and offers commentary perceived as favorable to his political faction.
The station's stance has often led to conflict with junta chairman Prayuth Chan-ocha, who has banned any public criticism of his regime since seizing power from a pro-Shinawatra government in 2014.
Govt Orders Voice TV Off Air Starting Midnight
Pro-Thaksin TV Channel Shut Down For 30 Days
Voice TV's 'Daily Dose' Ordered Off Air for Discussion of Courts & Military
Media Groups Criticize Shutdown of Voice TV in Rare Show of Solidarity
Voice TV Pressured to Pull Pundits For Rattling Junta
In August, the station announced it would cut its political coverage and content entirely to avoid further censorship and transition to more lifestyle-oriented coverage.
The crackdown on media freedom under the junta coincides with the ongoing decline of the traditional media, whether in print or on the air. A number of print outlets have closed down or slashed their offerings in recent years, and many digital TV stations say they are struggling to turn a profit.
"Our digital TV business is not going well, which is no different to other channels," one of the sources said. "So we have to evaluate, what do we have to do?"
The other source said many advertisers have been scared off by the frequent punishments from the regulators at the National Broadcasting and Telecommunications Commission.
Both sources maintained the station would not close down despite financial difficulties.
Additional reporting Pravit Rojanaphruk
Correction: An earlier version of this article quoted a source saying Voice TV would end broadcasts. The source did not state such information. We regret the error.