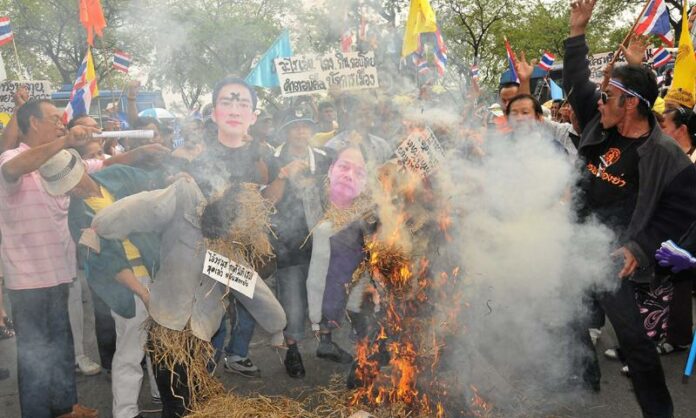 BANGKOK — Since its March unveiling, the Future Forward Party has positioned itself as a champion of liberal humanist issues from advancing women and LGBT Thais to guaranteeing universal access for those with disabilities.
This past Saturday, the party announced an "inclusivity working group" that would consist of four women and a transgender university professor known for their advocacy on gender and gender identity.
But along the way to the ballot box, an issue that one of its luminaries once campaigned extensively for has been unceremoniously dropped: reform of the royal defamation law known as lese majeste. Its leaders announced last week they would not pursue reform of the law which has been named by various civil rights watchdogs as a major breach of free speech in Thailand.
"Let me make it clear here that, at least for myself, I have no intention to propose amendment of Article 112," party founder Thanathorn Juangroongruangkit told an audience at the Foreign Correspondents' Club of Thailand last week.
Another party founder, law professor Piyabutr Saengkanokkul, made a similar declaration a week earlier, six years after his failed effort to reform the law helped fuel his rise into the public sphere.
"I'd like to insist that I will not get the party involved with the issue about amending Section 112 of the Criminal Code, and I will not push for it within the party," Piyabutr said in a statement posted online.
Piyabutr could not be reached for this story. Thanathorn would not discuss the issue beyond sending a written statement reiterating his opposition to the use of lese majeste as a political weapon. Thanathorn formerly served on the board of Matichon Group, the parent company of Khaosod English.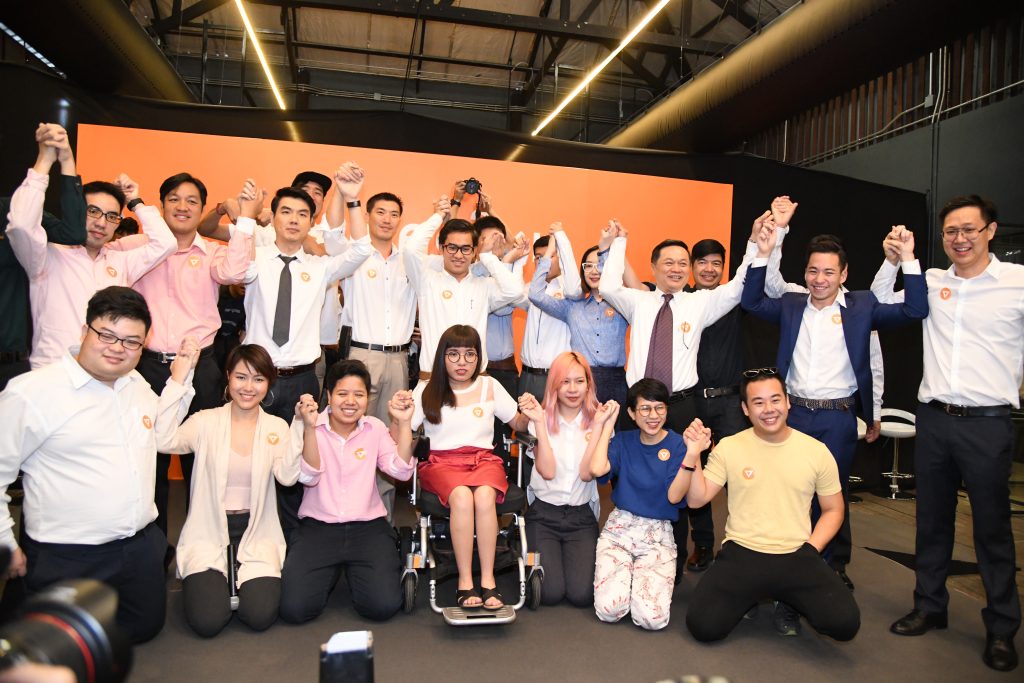 Four other party founders interviewed for this story would not confirm whether they would propose lese majeste reform when the party meets officially to designate its policies, while one key member said he would not propose such.
Though the law is cited time and again as a hindrance to free expression in Thailand, few have dared to openly call for it to be changed or abolished for the great backlash it can draw from those who frame such efforts as assaults on the monarchy.
The absorption of those few who once led the charge against the deeply seated taboo into competitive politics and compromise means a hollowing out of support for any change, to the disappointment of reformers.
Sunai Phasuk, a researcher for Human Rights Watch, said desertion of the issue may discourage others from taking it up.
"Making that declaration is like reaffirming this taboo and the perception that not only the institution, the monarchy, is beyond criticism, but the law is also turning into something untouchable," Sunai said in an interview. "Even though many international organizations have repeatedly raised concern about this issue."
Prontip Mankong, a former theatre activist convicted of lese majeste and imprisoned for two years, said she hopes others will take up the torch and go where the Future Forward Party would not.
"It's alright. Campaigning about this doesn't require us to place hope in one particular group. If they are not comfortable, it's alright, I guess other people are looking at this issue. I'm waiting to see someone takes up the issue, too," Prontip said.
Another detractor is Somsak Jeamteerasakul, who's been accused of violating the law by calling for its abolition and lives in exile abroad. He recently called Piyabutr's U-turn on the lese majeste question "unnecessary and ill-judged," adding that he and others risked becoming "newer, younger versions of older politicians and intellectuals" who refused to touch the issue.
Undebatable Debate
Although the letter of the law only prohibits insults or threatening remarks to the king, queen, heir apparent and the regent, it has become widely interpreted to apply to any perceived disrespect to the institution as a whole. Trials are often conducted in secret by the military.
Because of harsh punishments dished out, discussion of the monarchy and lese majeste has become rare in public except for the free-wheeling realm of social media, which the authorities in recent years have attempted to curb.
Sunai from Human Rights Watch said he was hoping to see the Future Forward Party take up reform of lese majeste, given its founders' track record on human rights activism and the party's progressive platforms.
"If we are to look for any political party that would talk about this, it has to be this party," Sunai said. "But now that they are abandoning this position, it's premature, and it's raising the question of whether they end up making this law untouchable, even though they call themselves a new generation."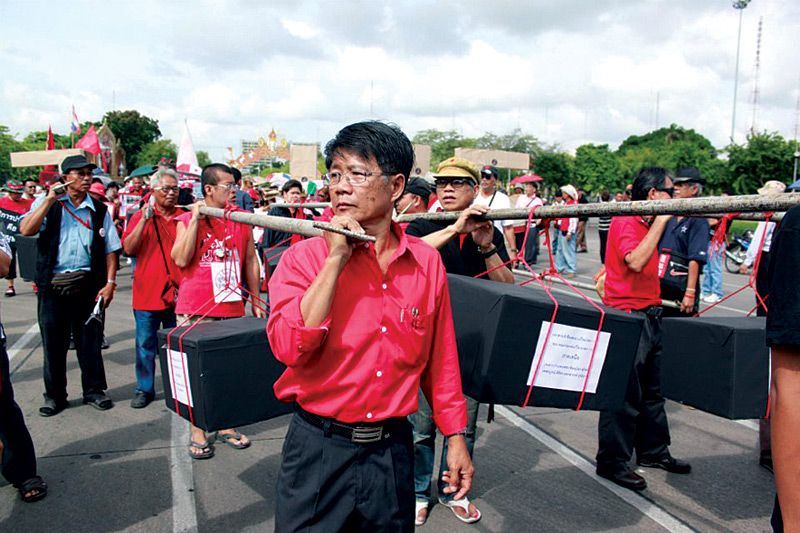 None of several founding party members interviewed for this story said they would volunteer to push for lese majeste reform once the party convenes its first formal executive meeting to discuss its platform.
"I think the picture will be clearer at the meeting. Right now, it's just about what individuals say. It's nonbinding," said co-founder and political science professor Sastarum Thammaboosadee. "I can't say what direction it will go."
"I don't know. We'll have to see when the meeting takes place who will push for this issue," disability rights activist Nalutporn Krairiksh said.
"It's up to the party consensus whether we will push this matter," pro-democracy advocate Didtita Simcharoen said. She declined to say whether she would take up the issue herself.
Like Didtita, former Redshirt activist Phuvakorn Srinean would not say whether he would propose reforming the law at the meeting. Asked what he personally thought of lese majeste, he would not give a straightforward reply.
"Hmm, I'd rather not answer this question," Phuvakorn said. "It's difficult to answer. Personally, I think, it's difficult."
Another party leader, Chris Potranandana, outright confirmed he would not propose the issue when the party meets.
"My stance is no," Chris said. "I cannot answer for other people's stances. But my stance is the same with ajarn Piyabutr."
Damned If You Do?
Political pragmatists have reason to see a kiss of death for taking up a topic that is unmistakably the third-rail of Thai political and social discourse. Idealistic aspirations were likely hardened when a full-court press to achieve reform failed, with one proponent burnt in effigy.
Piyabutr, who teaches law at the prestigious Thammasat University, led a push to reduce the penalty for lese majeste and prevent members of the public from filing the charge against one another.
That attempt failed in 2012 when the Pheu Thai-led government refused to even debate the issue in parliament.
Ironically, it was under the military junta that the first easing of lese majeste in years occurred; the Attorney-General announced in February that royal defamation indictments can only come from top national prosecutors to prevent misuse of the law.
Six years ago, Piyabutr campaigned alongside fellow law professor Worachet Pakeerut at the time. On Tuesday, Worachet said he was puzzled by Piyabutr's shift.
"I have not met ajarn Piyabutr at all, so we haven't talked about this yet," Worachet said. "If I meet him, I will ask him what his reason is."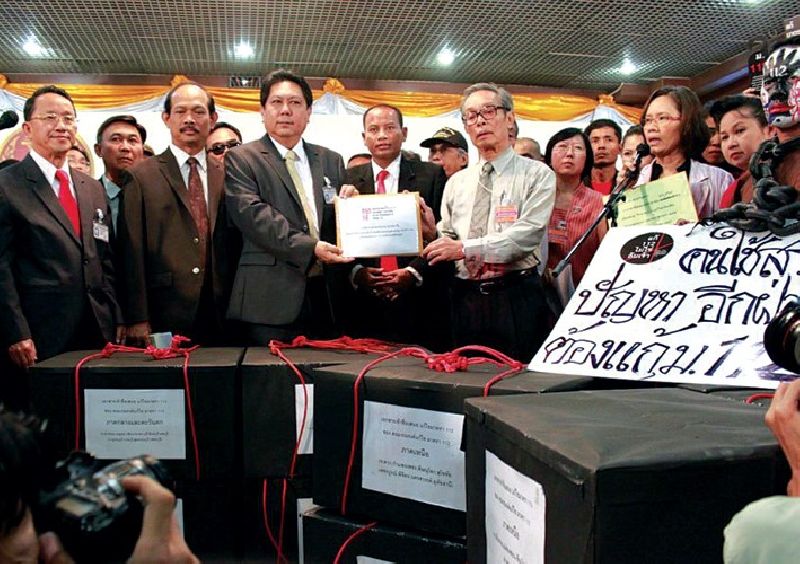 He added, "I'd understand him if there was a party meeting and this was what they decided. But if he did it on his own, I would have to talk to him. Maybe he has a special reason, or something we don't know about."
Piyabutr's announcement that he would drop the issue appeared a defensive measure, coming as it did one day after a royalist faction cited his past advocacy in exhorting the Election Commission to monitor Future Forward.
The commission has not taken any action against the party.
Worachet, who was physically assaulted at his university during the height of the reform campaign, said he's also done with lese majeste activism, having "exhausted" all efforts in 2012.
"The politicians wouldn't amend it, so I don't know what else I can do," Worachet said. "I've done everything … I've been punched in the face for it. They even burned an effigy of me."