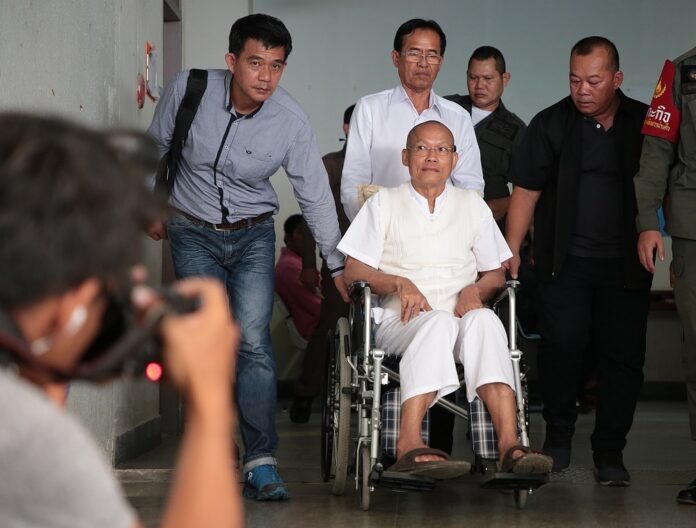 BANGKOK — A former activist monk convicted of assaulting police officers said he would soon return to the monkhood after he was freed on parole Monday.
Suwit Thongprasert, formerly known as Buddha Issara, had his monk status stripped when he was arrested in a predawn raid in May and put on trial. A court today found Suwit guilty of ordering his followers to detain and beat up two undercover policemen during a street protest he led in 2014.
Speaking to reporters after the verdict, Suwit said he would ordain as a monk again on Dec. 1. He declined to say whether he would return to Wat Or Noy, where he resided for decades prior to his arrest.
The 62-year-old former monk arrived and left the court in a wheelchair. His aides said he's suffering from severe back pain caused by a herniated disc.
Suwit was given a three-year jail term, which was reduced to a year because he pleaded guilty. The court then freed him on a year's parole on the grounds that Suwit had taken steps to compensate his victims after the assault. He spent three months in jail before being released on bail on a 200,000 baht bond.
Prosecution on other charges, including insurrection and forging a royal emblem, are ongoing.
Related stories:
Cops Detained, Beaten By Buddha Issara's Guards
Buddha Issara 'Not Yet a Suspect' in Lese Majeste Case: Police