Top: Black Cabin / Facebook
BANGKOK — The capital these days does not lack for live music venues with quality sound systems.
But music lovers would be remiss not to check out a growing contender among its jazz, rock, underground, alternative and musically astute venues which six months ago took over the space belonging to famed pub-restaurant-studio Stu-fe.
Black Cabin, in a soi off Rama IV Road, was opened by a group of friends as a place for live music in different genres every night. It's the same people behind the busy live music bar Loyshy near BTS Ratchathewi.
On a recent Saturday night, around 50 people filled the wild animal-themed space to hear local folk bands and artists pay tribute to Paul Romaine of Bangkok-based folk band Jenny and The Scallywags, who is leaving to return to New Zealand.
The sound is good, but the emphasis is on the bands. Except for Mondays, when it's closed, Black Cabin rotates through different genres. Expect a 1950s, beatnik Chicago Blues vibe on Tuesdays, then return the next night to make your mark on the dancefloor at soul disco Wednesdays. Thursdays are dedicated to post-rock and indie folk, while Fridays are for electronic music and weekends shift to soul, jazz and R&B.
Regular bands include indie jazz sextet Supergoods, folk-rocking musicians Stoic and powerfunk outfit Motherfunky.
"People used to stick with only one genre of music. If it's jazz, it's gotta only be jazz. It it's rock, it's gotta be only rock," co-owner Suppakit Fongtanakit said. "But these days people are more open-minded, and they listen to many genres of music. And they also crave quality."
Arriving with an appetite is okay, as there are plenty of food and drink options. The venue shares a kitchen with neighboring game meat restaurant Wild & Company, so the menu includes exotic meats such as crocodile and rabbit to starters including mixed green salads and an inventive scallop larb, a spicy scallop salad with shrimp crackers. Vegetarian items can be specially ordered.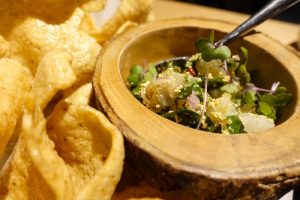 Watchara "Ozzy" Pomee delivers on drinks at the bar. In May the resident barkeeper was named Thailand's top drinksmith by the Ultimate Bartender Champion competition, which ranks the country's top mixologists by score. Ozzy's best offers include signature cocktail Wild Men (Jameson, Grand Marnier, Cherry Heering, lemon juice and chocolate bitters, 320 baht) and Pink Chandelier (Jameson, creme de cassis, syrup, lime juice, mint leaves and sparkling wine, 380 baht).
Black Cabin is located on Soi Farm Wattana across Rama IV Road from Kluaynamthai Hospital, about 1 kilometer from BTS Phra Khanong. The venue is open every day except Mondays. Live music starts at 9pm.