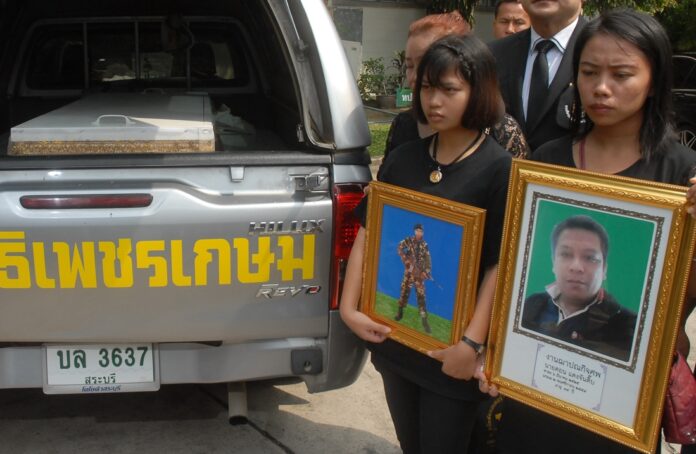 BANGKOK — Relatives of a man who died during a police raid on a gambling den carried his dead body to a police station and government office Monday to demand swift prosecution of the officers involved.
Seven police officers were charged with fatal reckless conduct Saturday over the incident, in which they kicked and beat Don Daengchantip, 34, until he lost consciousness and later died. An autopsy report showed Don suffered serious head trauma and bruising, according to a representative of his family.
Read: Bangkok Cops Investigated For Allegedly Kicking Gambler to Death (Video)
"Mr. Don was repeatedly hit with a hard object to his head. He had bruises all over his body, both front and back, that extend to his ribs," said Sira Jenjaka, a former member of the junta-appointed National Reform Council. "His skull was fractured."
At a later protest at a government complaint center, Don's wife Pattayaporn Daengchantip said said her husband's death left the family without a breadwinner to rely on.
"We are here today to demand fairness," she said. "Me and my family are in so much difficulty because we lost a pillar in our family."
Pattayaporn also said police haven't made a move to compensate her family for their loss.
Don died Nov. 2 as he attempted to flee a suspected gambling den in Bangkok's Samsen Nok district.
In security camera footage of the incident, he is seen attempting to break away, at which point a group of police officers begins delivering swift kicks to him as he lies prone.
To vent their anger at the seemingly slow pace of the police investigation, Don's family carried his coffin and staged a protest in front of Sutthisan Police Station, which ordered the raid. The protesters dispersed after a police representative assured them that the seven officers had been charged and would be prosecuted in accordance with the law.
The seven were also transferred to inactive posts to prevent them from interfering with the ongoing investigation, according to police spokesman Col. Kritsana Pattanacharoen.
Despite evidence of abuse on Don's body, Kritsana said it's still too early to pinpoint whether police actions were to blame for the suspect's death.
"Forensic science examination results are considered evidence, but ultimately it is up to the investigators to conclude," Kritsana said Monday. "Evidence comes in many parts and many forms."
The spokesman added that the Sutthisan police chief has been in regular contact with the victim's family, updating them on the case. He also disputed Pattayaporn's assertion that police have not compensated them for her husband's death.
"We have been working together all the time. We haven't abandoned them," Kritsana said.