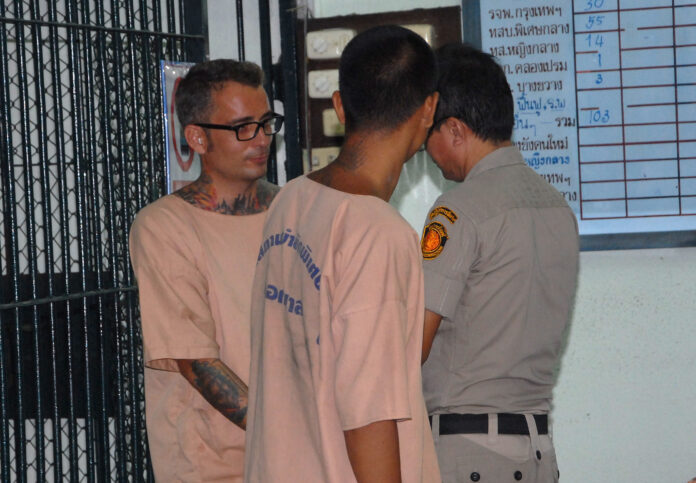 BANGKOK — The trial of a Spanish man accused of murdering and brutally dismembering another Spaniard in Bangkok will go forward after he plead not guilty to all charges in court Monday.
Artur Segarra, 37, was brought from Bangkok Remand Prison to the Criminal Court where he entered his plea after formally hearing charges including premeditated murder stemming from the death of fellow countryman David Bernat, 39, whose body parts were found in the Chao Phraya river in January.
Representatives from the Spanish Embassy were present at the hearing, and Segarra himself testified to the court through a Spanish interpreter that he had no connection to Bernat's murder.
Segarra is being represented by a court-appointed lawyer.
The suspected killer acknowledged having stayed at the PG Rama 9 Condominium, where police believe Bernat was killed before being cut into pieces and dumped into the river.
Segarra was arrested Feb. 7 in Sihanoukville province, Cambodia. Police believe he and possibly others were motivated by theft to abduct, torture, murder and dismember Bernat.
Segarra reportedly made large cash withdrawals from a number of ATMs in at least two provinces after gaining access to an account belonging to Bernat which held about 37 million baht.
On Monday, the prosecution told the court they have 95 witnesses to testify against Segarra, who so far had none forthcoming to testify.
The next court date to review evidence was set for July 25.
Related stories:
Police Say Slain Spaniard's DNA Found in Suspect's Home
5,000 Baht Reward for Box of Murder Knives
Police Trace Steps of Suspected Spanish Killer
Spanish Embassy to Attend Segarra Questioning
Cambodia to Hand Over Spanish Murder Suspect
Police Seek Spanish Murder Suspect
Spanish National Identified as Dismembered Man